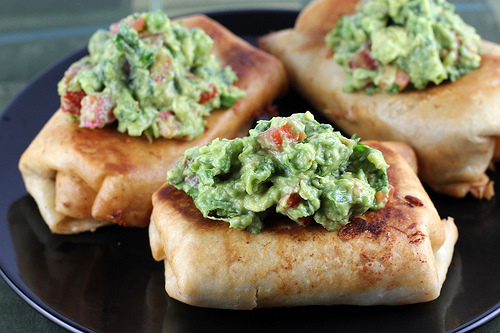 First of all….YUMMY!  That's all I have to say.  Delicious all the way around.  I made this the night before all my family came up to celebrate for Christmas, and we had enough for dinner and for everyone for lunch the next day…score!  You can wrap the extras in tinfoil, pop them in the oven…and voila!  I have to say…the guac makes the meal so if you aren't an avocado person, this dish isn't for you.  Also, another warning…plan some extra time for this meal, and a few extra dirty dishes…but it's worth it!
Ingredients:
1 ½ cups chicken broth
1 cup uncooked long grain white rice (I used brown…just sayin!)
½ cup red enchilada sauce (make enchiladas that week too with leftovers!
1 ½ onion (diced, divided)
6 (12 inch) flour tortillas  (I did break down & use flour…I bet wheat would be good too!)
4 cups shredded cooked chicken breast
1 pound Monterey jack cheese (shredded)
1 (6 ounce) can sliced black olives
4 cups refried beans (I used lowfat)
¼ cup vegetable oil (I suggest using 1/2 olive oil & 1/2 smart balance oil- it was perfect!)Avocado topping-
3 avocados (peeled and pitted)
½ cup cilantro (finely chopped)
2 tablespoons lemon juice
3 green onions (diced)
¼ cup jalapeno chile peppers
1 tomato (diced)
2 cups shredded lettuce
1 cup sour cream (I used light)
2 cups shredded cheddar cheese
Step 1: In a medium saucepan combine chicken broth, rice, enchilada sauce, and diced onion. Bring to a boil, and reduce heat to low and let it simmer for about 20 minutes or until the rice is tender. Stir in shredded cooked chicken and mix well.
Step 2: Heat refried beans in a saucepan over low heat until they stir easily. Heat tortillas in a large skillet or in the microwave so that they fold easily.
Step 3: Spoon equal amounts of refried beans onto each tortillas followed by equal amounts of the chicken/rice mixture, Monterey jack cheese, and black olives. Roll up the tortillas¸while tucking in the sides. Secure the wrapped tortillas with a toothpick.
Step 4: Heat oil in a large skillet and fry the filled tortillas, turning once, until browned on both sides. Drain on paper towels.
Step 5: To make guacamole- in a medium bowl mash together avocados and lemon juice. Stir in cilantro, green onions, jalapeño peppers, and tomatoes. Top chimichangas with cheddar cheese, guacamole and sour cream.
(Makes 6 Servings)
Happy Eating Friends! *Trina