I just made this recipe and froze it for my brother and sister-in-law, who just came home from the hospital with a brand new baby girl (who is adorable might I add, and almost makes me want to start working on #3.  Almost).  My husband LOVES it because its potatoes and beef, and the kids love it because its creamy and cheesy.  The cream of celery is surprising…I always like something new that I rarely use.  There's always left overs for lunches, which at our house is a big deal.
Sunday 9/4/11 Recipe ~ Creamy Meat & Potato Casserole (Trina's version- I've changed it a few times)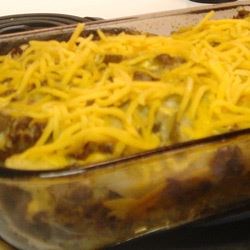 Happy Labor Day weekend & happy eating my friends!  Enjoy.