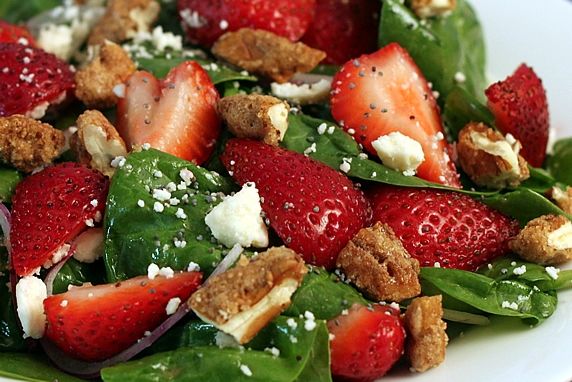 I've never really been one to order fruit with my salad..  However – at a dinner party about a year ago a friend made me try her spinach salad with cranberries on it….and I loved it.  Although this doesn't necessarily account a a full meal, it's a great side to a light dish such as chicken or pork.  It's also fabulous for a something quick you can throw together.
Ingredients
6 oz (approx 6 cups) baby spinach leaves
1 pint (approx. 16 medium-size) fresh strawberries, hulled and quartered or sliced
1/4 cup thinly sliced red onion
1/4 cup crumbled feta cheese
3-4 tablespoons poppy seed dressing (see below instructions)
1/2 cup candied pecan pieces (you can buy these at the store or use just regular pecans)
Directions
In large bowl, toss spinach, strawberries, onion, and cheese with dressing. Sprinkle candy pecan pieces on top just before serving (so they remain crisp).
Ingredients
1/4 cup grated/minced red onion (half of a small onion)
1/2 cup white wine vinegar
1/4 to 1/2 cup sugar, to taste (you can substitute 1/2 truvia & 1/2 sugar for less sugar)
1 teaspoon dry mustard
1 teaspoon salt
1/2 cup olive oil
1/2 cup canola oil (yes, I splurged and used this)
1-1/2 teaspoons poppy seeds
3 EASY WAYS TO MIX THE DRESSING:
–Mince the onion. Add vinegar, sugar, mustard, & salt to the blender or food processor and mix until combined. Add the oils. Blend until well mixed (this is important!). Add poppy seeds and pulse just until mixed.
–In a bowl. Whisk together vinegar, sugar, mustard, salt, minced onion, and poppy seeds until well combined. Continue whisking while adding the oils in a thin stream. Keep whisking until well combined.
–In a jar. Add everything except the 2 oils to the jar. Cover and shake to combine. Add 2 oils and shake vigorously until well combined.
If too thick, may be thinned by whisking in water a tablespoon at a time until desired consistency.